What We Do and
Who We Are
Do you require a dependable appliance repair for one of your home or office
appliances? Are you having problems like "My washer wont spin" or
"fridge won't cool"? Perhaps you've realized that your refrigerator has
started to leak, the oven doesn't bake as well as it once did, and your dryer
won't stop making that awful noise. Mr. E Appliance is here to fix any issue
with your household appliances.
Reasons to select our appliance repair service:

At Your Service Always
We would never respond with the statement "I will be there between 8 am and 6 pm,". We strive to respond to all customers quickly. In the event we are busy, staff will respond back immediately and schedule you according to your availability. With our two-hour open window after being scheduled, you will know exactly when the technician will arrive. We also offer 24-7 on call telecommunication in case there's an emergency after hours.

Perfect Service
Our assistance is timely and precise. We organize many time slots for same day or next day service at your convenience. You can always give us a call to ensure we'll be available during the day. Not only do we provide Appliance Repairs in the Greater Richmond Region, but we also service the Tri Cities such as Peterburg, Williamsburg, Colonial Heights, Hopewell, Amelia, Powhatan, Ashland and Troy, VA just name a few.

We Appreciate Each Call
We Strive to Achieve Sustainability with Every Repair by Providing Excellent Customer Service from the start of the phone call. Every call is important to us. In addition, feel free to book your appliance repairs online and ask for a quote that we will gladly provide for you.

Affordable Price
We offer competitive pricing for repairs when serving our customers whether it's about a "Microwave that keeps tripping your breaker" or any default appliance issue. We have a fixed pricing for estimates, regardless of how long a project will take. There are no hidden fees as we provide ethical business practices. Prior to repair, we offer a quote for the cost of any broken parts.
We can assure you that all repairs are done safe, adequately and efficient which enables you to be worry-free while using your restored appliance. This enables worry-free use of your restored appliances. We provide repair and installment services for practically all appliances.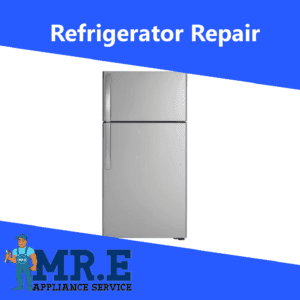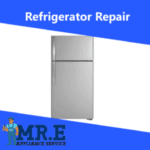 Refrigerators
Call Mr. E Appliance to handle home refrigerator repairs. If you try and fix a refrigerator yourself but find it difficult to identify the problem, we can handle the repair. We handle the repairs to bring any out of warranty appliance back to life. Is your Samsung fridge not making ice? Simple tweaks or tune-ups always help for the longevity of your major home appliances. Our skilled experts can restore an old fridge to good condition.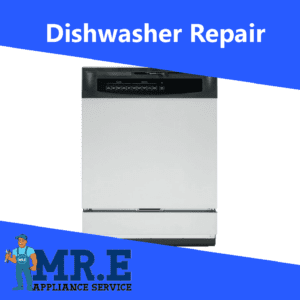 Dishwashers
Dishwashers are convenient since they clean the dishes for you while producing the high-quality results you want. To assist you in locating the problem and carrying out a dishwasher repair, our knowledgeable specialists are at your service. If you have trouble like this: "My dish washer won't start" or "My dish washer won't drain", that's where the experts from Mr. E Appliance Repair Service come in! Numerous concerns, including long wash cycles, leakage and drain troubles could be preventing your dishwasher from running at optimal performance.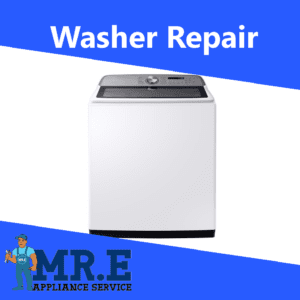 Washers
The convenience of being able to quickly clean laundry with a few button presses is frequently taken for granted until the washing machine breaks down. We've heard it all from, my washer wont spin, to my washer won't drain to my washer won't start. To reduce the chance of water damage or other issues, arrange a repair service as soon as you identify issues with your washing machine. Mr. E Appliance can offer routine maintenance or urgent washer repair to fix the issue.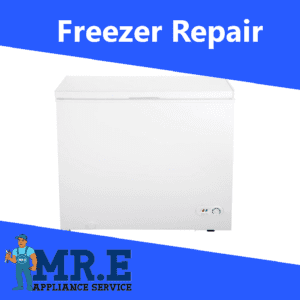 Freezers
For freezer repair, Mr. E Appliance offers you the best and highest degree of quality services. An important piece to keep foods cold is your freezer. Our experts can locate the issue immediately, bringing an appliance to the proper temperature and maintaining it. Freezing must be done with the utmost caution and food safety. Without proper safety and care, handling appliances can be fatal. Superior technique freezer repairs are offered by Mr. E Appliance.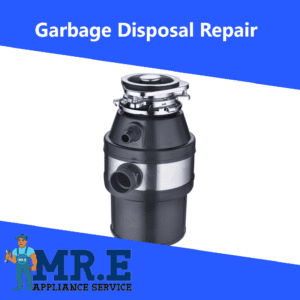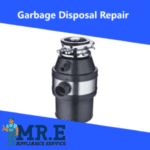 Garbage Disposals
Garbage disposals are more than just a useful kitchen tool; they also help prevent food waste from ending up in landfills, which is beneficial for the environment. For professional garbage disposal repair and troubleshooting when your trash disposal is leaking, blocked, not working or has a foul odor, call Mr. E Appliance. We'll fix the garbage disposal at your earliest convenience.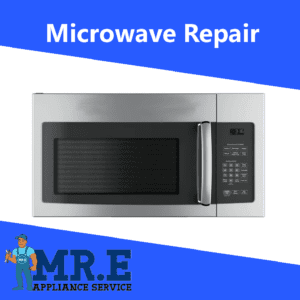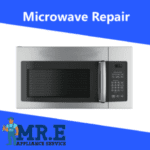 Microwave
Microwave tripping your breaker? Microwave keeps running when the door is open? Microwave making humming noises? Microwaves are so handy until they abruptly stop working! Call Mr. E Appliance if you require microwave repair service. Our specialists will identify the issue and offer the necessary microwave repair.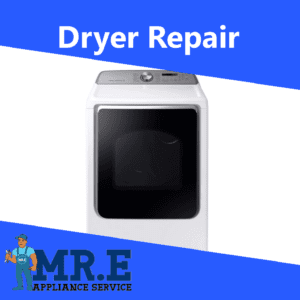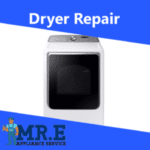 Dryers
One of the most important and necessary appliances in every home is a dryer. Nobody wants to be surrounded by wet laundry piles. If you experience issues like your Samsung dryer won't heat, it can be very frustrating. If you've noticed an increase in your energy bills, delayed drying, or any other issue such as My dryer won't heat", or "My dryer won't stop running" don't panic, our knowledgeable specialists have you covered in the laundry room! Make an appointment today to get your dryer back in working order. With Mr. E Appliance it's crucial to locate a simple fix that will get your system up and running quickly. With that, we want to come up with a solution that won't break the bank and cost a fortune. The staff of Mr. E Appliance can assist in that way.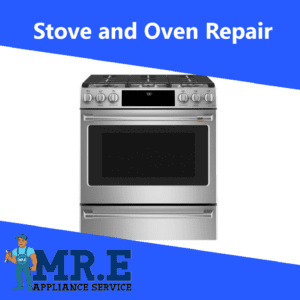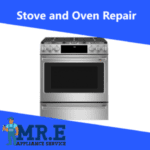 Stove and Ovens
It can be frustrating and inconvenient when your stove or oven malfunctions. Issues like "My oven won't heat", "My oven burns my food" or "My stove top turns on but my oven doesn't" are very common. With stove and oven repair services from a Mr. E Appliance expert near your zip code, things can get back to working properly in no time. Electric and gas stoves along with oven repairs are available. You can put those high-quality meals back on the table. We take great satisfaction in providing quick, reliable repairs and are ready to tackle a variety of stove and oven related issues. Whatever the problem may be, we will handle it completely, professionally, and meticulously.
You've found the best place if you need appliance repair close by! The Virginia area has swift and affordable service with the top technicians. We operate a dispatch center and provide an online booking service available 24-7. At Mr. E Appliance, we have helped thousands of customers over the years by connecting them with dependable appliance specialists and certified technicians. We are convinced we can do the same for you.
Call Dispatch Center for Appliance Repair
Contact our dispatch center or book an appointment online. Inform our helpful operators of your appliance issue and any other problems you're facing.

Our Vision
Is to deliver trustworthy appliance repair at a fair price while also offering outstanding customer service. With our collective number of technicians, we have provided service to the area for more than 20 years as an appliance repair company.

Our Mission
Is to continue practicing customer first service by staying knowledgeable on all appliance brands so that your life is back on track.

Our Services
We can assure you that all repairs are done safe, adequately and efficient which enables you to be worry-free while using your restored appliance. When providing repair services, we are meticulous experts. Our professionals arrive at your location on time, prepared with the appropriate equipment and replacement components. The happiness of our customers is our first priority. We are aware that appliances can malfunction at any time, causing you difficulty. As a result, we are accessible to repair your equipment daily. We offer high-quality repair services for a wide range of household appliances from various brands, including refrigerators, ovens, washers, and many more. To learn more about our services and warranty policy, call us right away!
"We are aware that appliances can malfunction at any time. Simply give us a call, and a Mr. E Appliance skilled technician will be on their way to fulfill quick appliance repair. We provide prompt repair services at your location with guaranteed excellent work and reasonable costs. To learn more about our services and warranty policy, call us right away! Since we have been accessible online, we have received requests for the following issues from our customers: Samsung dryer won't heat, Samsung dryer no power to display, Samsung 22e error code, Samsung fridge not making ice, My washer won't spin, My washer won't drain, My washer won't start, Fridge won't cool, LG refrigerator not cooling, Microwave keep tripping breaker, Microwave keep running door open, Microwave making humming noise, Refrigerator won't stay cool, My Fridge isn't cold but my freezer is, Refrigerator won't make ice, Refrigerator won't dispense water, Fridge not dispensing water or ice, My dryer starts but won't heat, and Dryer won't stop running."
Our Customers Say About Our Service

Veronica Paulson
2023-06-19
They diagnosed, ordered parts, and fixed oven within a week of contacting. Easy online scheduling was also a plus! Extremely polite and courteous and took the time to explain issue at hand. Highly recommend and will use again!

Crystal Wolverton
2023-06-13
I couldn't be happier with the service from Mr. E appliance repair. They were responsive, on time, knowledgeable, speedy, and the price was fair. We used them for our dishwasher repair (needed a new motor) , and will use them again when we need service on our HVAC, and other appliances, as well as plumbing. Thank you!!

Crystal-Renee McMiller
2023-06-11
These guy are absolutely hands down the best repair company. My dryer broke I called so many ppl giving me all the same answer no base access. Not with these guys they are able to get on base. Are affordable fixed my dryer within two days I will go with these guys every time for every repair. Thank you so much for all you did to help me and my family out.

Fixed my no spark with no issues. Recommend for sure

Kyle did a great job. Highly recommend.

Easy five stars. Great service. Quick turnaround. Fair price. My oven's bake element broke. Kyle came by the same morning and fixed it in about 10 minutes.
Kierstin Kratzer
2023-05-14
Working with Mr. E Appliances has been a great experience. My LG refrigerator stopped functioning and it was determined to be the control board and compressor. Kyle was very kind throughout the process and helped me get all the parts need for the repair paid for by LG. Huge thanks to the Mr. E Appliance Team!
Take advantage of our online discount offers – save time and money…

Residential & Commercial Appliances
See what our company can do for you

If your appliance is not working properly…
We Service Most Major Brands Of Appliances:
2.
Appointment gets confirmed.
3.
Appliances are completed for repair.
We Accept Credit Card Payment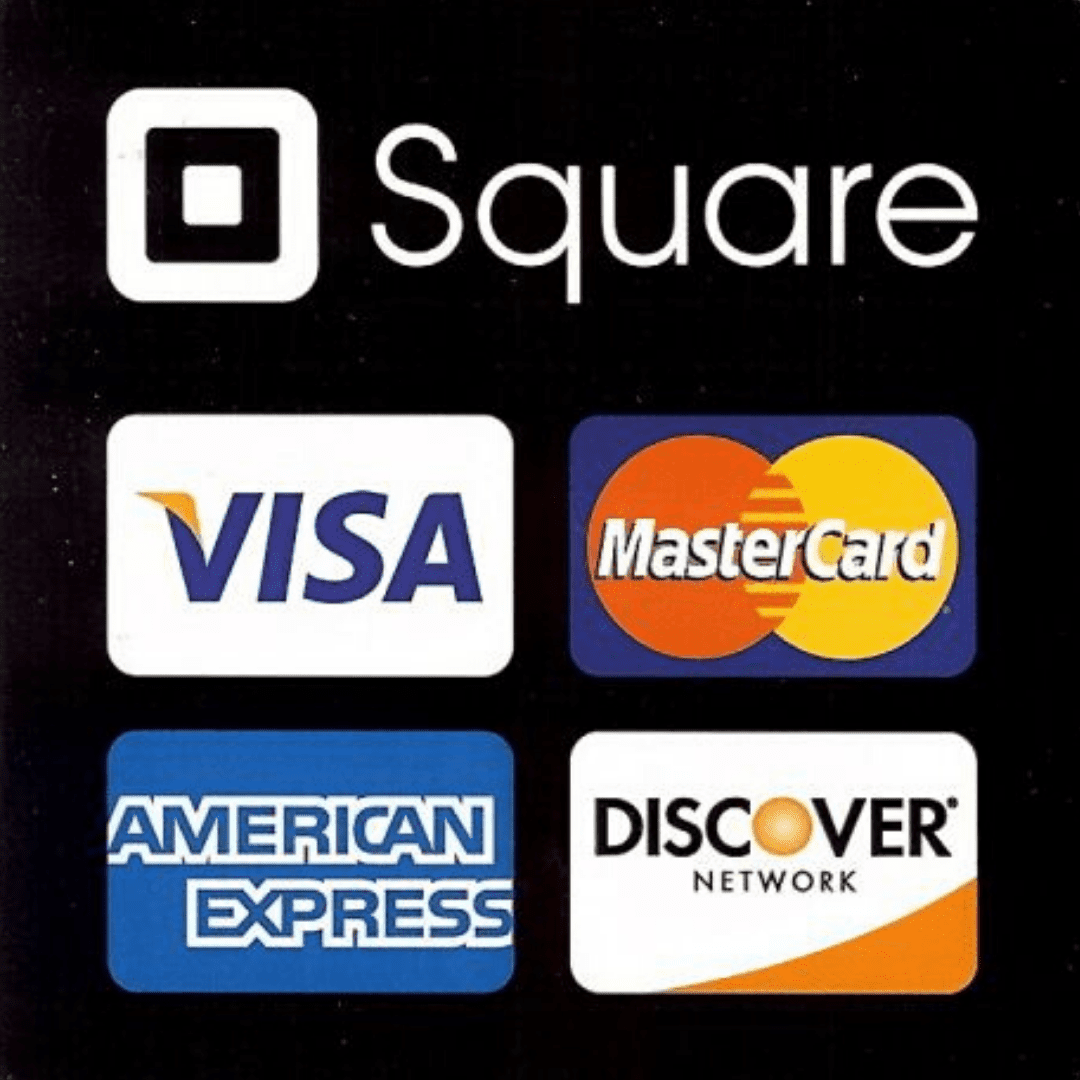 How Do We Accept Payment?
We have the ability to accept payment via Square. Square allows the service technician to receive payment from your home or place of business. This reduces delays in parts and downtime. All major credit cards are accepted.